Press Statement 23rd May 2005
The picture below is Copyright Val Wilmer and is not to be reproduced. The boxed areas show some of the the matching Damage.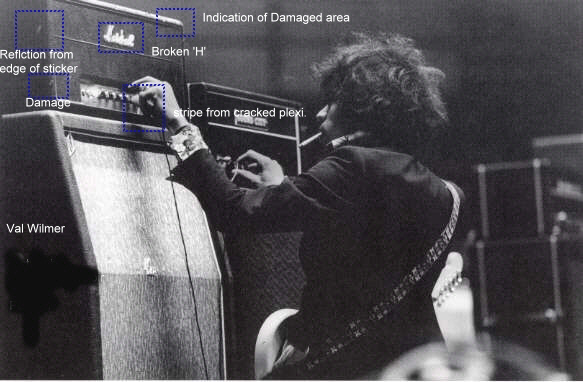 This is what was provided for the press on the 23rd May. Most evidence cannot be shown here until copyright can be agreed with the relevant photographers. More pictures were available for the press.
Rich Dickinson is pleased to provide evidence that This Amplifier was 1st owned by the legendary Jimi Hendrix after he bought it in October 1966. Due to the length of time passed since then it has been difficult to find the necessary provenance but what has been found leaves no doubt as to it's authenticity. Research will be ongoing and not all evidence has been provided today due to copyright and other similar restriction's.
Jimmy Hendrix moved to London in late September of 1966 and his success came quickly. As his manager, Chas changed Jimmy's name to "Jimi", which he thought was more original and catchy. On October 6, the Jimi Hendrix Experience was formed with, of course, Jimi, Noel Redding on bass and Mitch Mitchell on drums. On October 8 Mitch introduced Jimi to Jim Marshall And it was then that the first Marshall Amps were bought. The trio recorded "Hey Joe" on Oct 23rd and it was released at the end of the year. The first piece of evidence we have comes from a photo taken in Paris on the 18th Oct 1966, just 10 days after the Amplifier had been bought.
The Jimi Hendrix Experience became a sensation in England and their next releases "Wind Cries Mary" and "Purple Haze" were Big Hits. In May of 1967, "Are You Experienced?" was released and stayed at number two on the charts for the rest of the year.
The band decided it was time to move their success to the United States also, and they played at the Monterey Pop Festival. It was during this concert that Jimi infamously torched his guitar at the end of the show before smashing it into pieces. Needless to say, they were a hit!
When 1967 came round Jimi was playing almost every day, rarely did he have a single day in which to relax until he had a couple of days off before he played at the Marquee Club in London on March 2nd, From here we have found another picture. Just 2 days later he was back in the studio recording 'May this be love'
After their Tour in the US The Jimi Hendrix Experience returned to the UK and continued with an extremely busy schedule. On 14th Nov 1967 they played at the Royal Albert Hall where they started their tour with Pink Floyd and this is where we have found a fantastic photo taken by Val Wilmer during the Rehearsals for the show.
Interesting point's we have noted from these photo's and other evidence is that this Amp has always been No1 in the chain. It is common knowledge that Jimi had favourites where kit was concerned so we can assume 7026 was a favourite for some time, and was used for the studio and live recording's throughout this time and later.
Rich's STORY
18/9/70. That was the day that Jimi Died. I felt like I had lost a friend, almost a Brother.
I wasn't just a Hendrix Fan I was totally obsessed.
Nearly a year later, reading every available inch of print (which I used to do) of the Melody Maker I spotted the advert for Carlsbro sound centre and in the middle was listed a 100w Marshall amplifier that had the words (ex J. Hendrix) after it. That was it, I had to have it!!
I worked every trick I could think of (stopping just short of prostitution) to scrape the money together and sent of the money orders one of which I have found (see photo).
The guy in the shop told me that one of Hendrix's roadie's had sold them the gear. I think his name was Eric Barrett (the roadie not the shop guy). it duly arrived and it has been my pride and joy ever since. I Gigged it a few times in the seventies but to be honest it was so bloody loud I got the nickname 'Decibel Dickinson' you couldn't get that tone quietly, ask anyone who saw Jimi play live.
The only real proof that it is what it says on the box is that the money order receipt and sticker on the amp all prove where it came from and when I bought it. luckily people weren't so crafty as to fake logo's on kit back then, one good thing about the 70's is that there were no ghastly tribute bands around!
I wrote a letter to Marshall ( see photo) and finally went to meet Jim Marshall and Terry his son. they could only give a verbal appraisal because there is no archive of serial numbers or models, they guessed approx 1965.
Unusually the chassis is aluminium which only had a very limited production run and the back panel is white (not matching the front) white being from a very early production run.
If I look hard enough I can probably find photo evidence of me with it in the early 70's and I still have the set of kt66's that Jimi used. If only this kit could talk......
This amp just drips Voodoo and frankly I don't want to sell it to someone who wont appreciate it. It is a piece of Jimi's and My history.
Love and peace, Rock and Roll
Rich Dickinson
09 March 2005