Jimi's Amp play's for the 1st time in over 30 years....
October the 29th 2005, a day that will be remembered in years to come as an important day in the History of Rock, The day Jimi's Amp came back and proved it's incredible Tone and a few lucky people got the chance to experience it's Mojo.
Due to the fact we have to sell the Amp we decided it needed to be used in public one last time before the sale day arrives. In the UK there has been a massive decline in the audience figures across the whole of the live music industry, most performers, promoters and venues have noticed this but as yet there has been no solution formed or initiated. What could we do?
Using the interest this Amplifier has gained and the impressive amount of media coverage we decided to let it do what it does best......... Stand proudly on stage and make beautiful music! And of course attract lots of people to come and see a night of local talented musicians of various ages perform to remind those who may not normally watch live music what they are missing.
We all hope it worked!
Rich Dickinson is the 1st one to admit that he is no substitute for Jimi and does not want people to expect him to become a poor Hendrix Act of which there are many..... He is an original artist .
With the help of Marshall Amplification, BBC Radio Gloucestershire and especially John Rockley (Radio Presenter) we came up with a plan for Local Bands to send in a demo of their music to compete for the chance to play Jimi's Amp for the 1st time on stage in many years, a truly unique opportunity. once we had received all the entries we set about choosing the finalists who were to arrive on the night to play for 15min's so the audience could choose who they wanted back to play the Amp at the end of the evening. we chose Hard-Drive (under 18's), MoonFish (18-25's) and Ruth's Curtain (over 25's).
All 3 Bands put on an excellent show and proved to have some great Talents but it was up to the audience to decide...... It was a close call but they chose Hard-Drive who are aged just 10 and 11!
I think it is fair to say that the young band from Cirencester was in total shock when they were announced as the winner's! It was a close vote with just 15 votes separating all 3 Bands but only one could win, although it turned out to be 2 people. Hard-Drive has two Guitarists so we had to be fair and so they both played Jimi's Amp and the Replica in turn., I don't know what they are going to do with their new Marshall though..... one amp and 2 guitars.....!?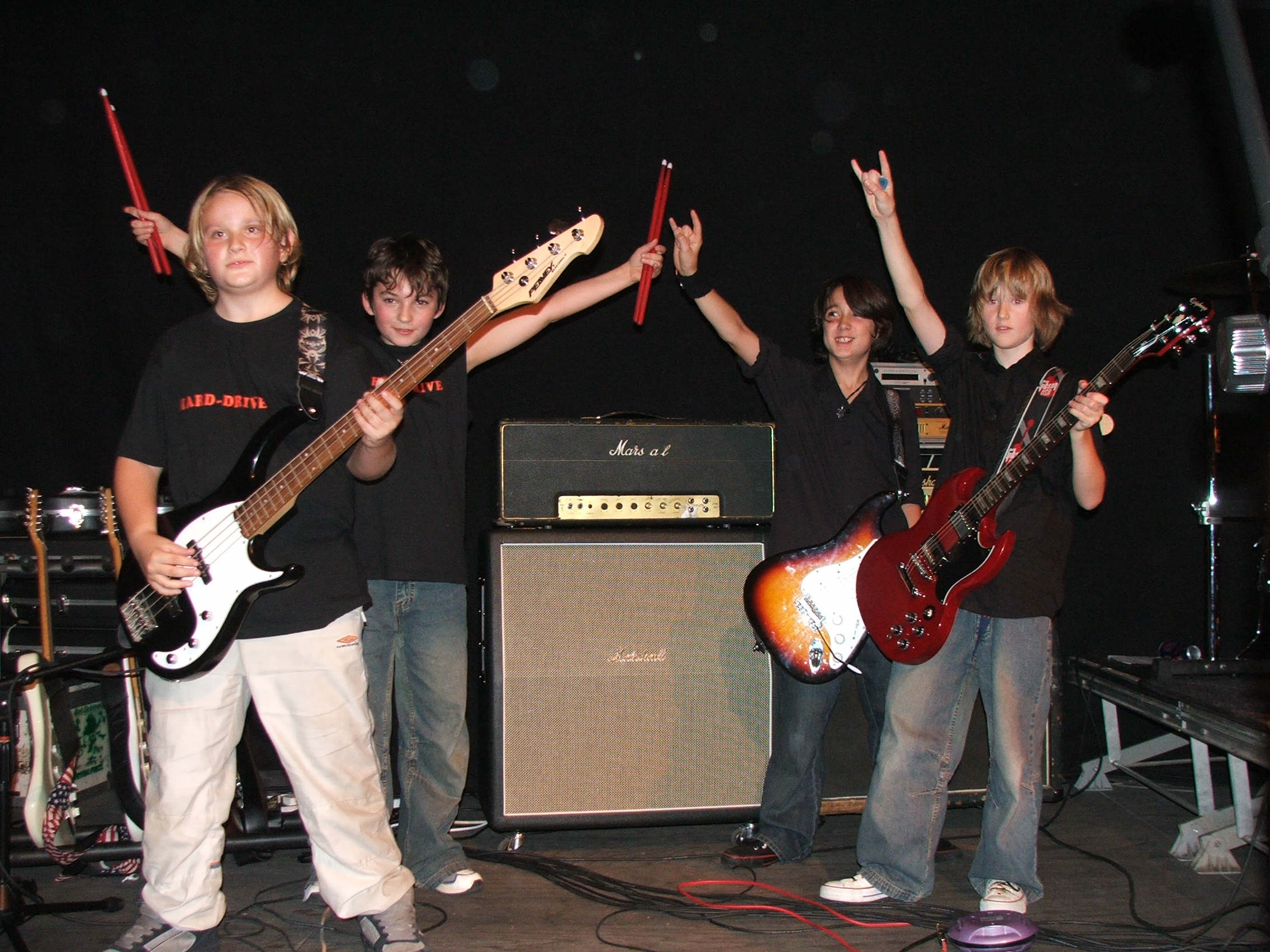 Above: Hard-Drive after making History
To help with page load times there are many more pictures Here
Below: Rich Dickinson. Helping to regenerate local Live Music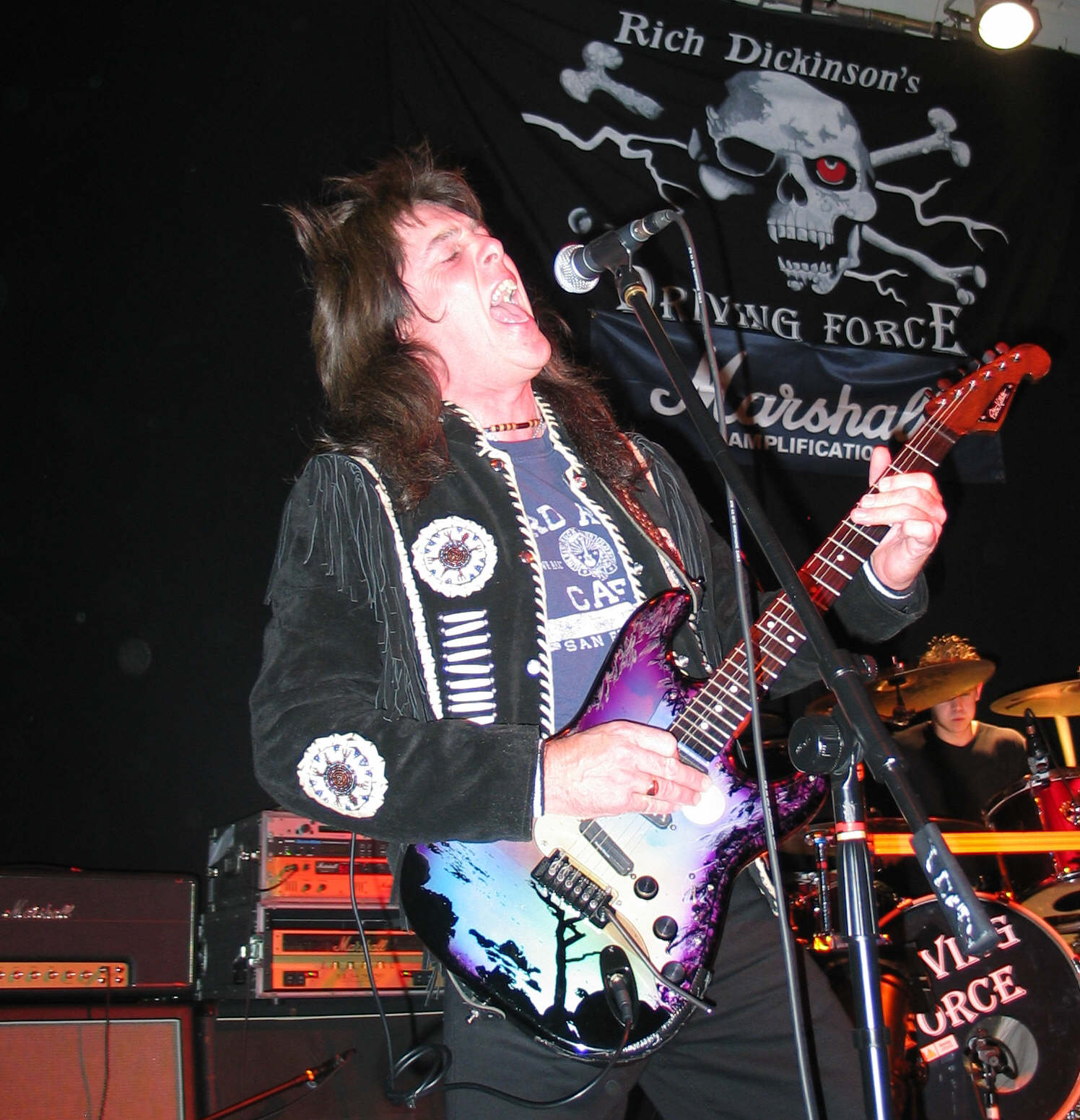 Speaking to HARD-DRIVE since the event they have commented as follows:
On the first day back to school as I drove into the car park I started singing 'Here we are again happy as can be'. Michael pulled a face and said "No, Saturday night was as happy as can be". Michael is a boy of few words, but when he says something he really means it. I thought it was quite profound of him.
I spoke to Cern and he said "I felt like a true rock star. I didn't care if I messed up. I just wanted to rock" (Spoken like a true professional!)
Lew, who had the first opportunity to play on the 'Hendrix' amp was totally overwhelmed by the evening, he said ` it was an amazing experience `.
Just have to say yet again thanks for a brilliant time last Saturday, and for all you did to share what you have with so many people. I think we have all come back down to earth now. The boys have had a great week at school, especially on Thursday when they appeared on the front page of the Standard. I see they also headline the radio glos entertainment page.
HARD-DRIVE
Hard-Drive was formed in February 2005,
Lew Evans - Rhythm Guitar age 10
Michael MacKellar-Still - Lead Guitar age11
Cern Bladen-Day - Bass Guitar age 11
Elliott Rayson - Drums age 11
The Guitarists have been playing for just over a year and Elliott has been playing Drums for about 2 years. Hard-Drive have performed at 3 Gigs (now 4!). The first was a School talent show at North Cerney Village Hall 25th May 2005, The 2nd was in a ' Battle of the Bands ' at Marling School in Stroud 9th July 2005 (which they were judged as ' The Band with the Most Potential ' and came 2nd out of 8 entries), their 3rd gig was again at North Cerney on 23rd July 2005. Their influences are James Hetfield (Metallica), Guns 'n' Roses, Green Day and most Hard Rock bands. They are very keen to write and perform their own material.